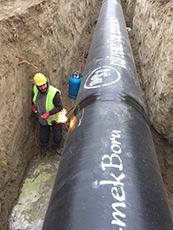 ADVANTAGES
We have a good experience on infrastructure pipeline projects. So we guess what you need before you detail it.
ADA ENGINEERING CONSTRUCTION INDUSTRY AND TRADE CO. LTD.
Since 1984 24 years of knowledge, work experience and the power of our effort to continue to serve our country. Turkey`s growing population, energy and water needs, distribution pipelines, the development has made it mandatory. Now reaching every part of Turkey`s pipeline network through both additions and new investments and maintenance, and therefore this issue needs more qualified supplier and producer companies. Pipe networks, steel, PE, PVC, GRP, etc. Ductile. variety of materials such as low pressure, medium pressure, high pressure operating conditions as can be. The lines through the gas, oil, water, geothermal, etc.. products is transmitted, laying of pipes of different techniques and methods applied to engineering. Years of experience in the various stages of pipeline are pleased to have the opportunity to serve as the company and sectoral variety of customer services in order to provide due to our policy of working only with the sale of materials and equipment for these products and to provide complementary services has been limited. Our products are examined, it appears the pipeline contractors, pipe and tube manufacturer companies investor network to help our companies and equipment, technological equipment, provide special application equipment and application techniques. Our customers` jobs easier, more economical, faster and more accurate work hard to do. One to one service by applying the ISO 9000 quality standards that we have and our desire to go beyond your expectations at all times by keeping the product range will further increase our efforts will continue.